Bezirksleiter – Verschiedene Standorte
Will the real sales wizard please stand up?
Bezirksleiter – Verschiedene Standorte 📈
Germany
---
Über unser Rudel:
Wir sind eine der am schnellsten wachsenden Tierfuttermarken in Europa mit dem Ziel, dass Du, dein Haustier und unser Planet sich wohlfühlt. Wir überzeugen durch frische Zutaten, einer großartigen Marke und haben uns wissenschaftlich basierte Ziele gesetzt bis 2025 CO2 neutral zu sein. Besonders stolz sind wir auf unsere biologisch abbaubaren Trockenfutterbeutel und darauf, dass wir 1% unseres Umsatzes an wohltätige Zwecke spenden, um Tieren in Not zu helfen. Mittlerweile hat Edgard & Cooper über 7 Millionen Futterbeutel verkauft, über 180 Mitarbeiter in ganz Europa eingestellt und über 320.000€ für Tiere in Not gespendet. 
Wir suchen dich:
Du liebst es Dinge eigenständig voranzutreiben und die Distribution auf ein neues Level zu bringen? Du hast Spaß daran mit uns den Zoofachhandel türkis zu machen und Entscheider im Zoofachhandel von unseren Produkten zu überzeugen? Dann bist du hier genau richtig!
Was erwartet dich:
Akquisition von regionalen Zoofachhandelsmärkten 
Die coolsten Zweitplatzierungen die du dir vorstellen kannst
Umsetzung von nationalen Marketingaktivitäten
Distributionsaufbau bei bestehenden Kunden 
Gib Pfötchen, wenn du folgende Tricks beherrschst: 🤹
Idealerweise 2-3 Jahre Erfahrung in der Tierfutter- oder Zoofachhandelsbranche und/oder Kontakte zu Entscheidern
Starkes Gespür für Vertriebsgrundlagen und ein sicheres Auftreten beim Kunden
Gute Präsentationsfähigkeiten & sehr gutes Verhandlungsgeschick
Zielorientierung und "Macher"-Mentalität
Gute Englischkenntnisse in Wort und Schrift
Was ist für dich im Napf? 🥗
Hohe Eigenverantwortung und die Chance unmittelbar die eigenen Erfolge zu feiern
Ein dynamisches Rudel mit vielen Chancen sich weiterzuentwickeln und jeder Menge Spaß
Firmenwagen (private Nutzung erlaubt)
Attraktives Fix-Gehalt + Bonus
Startdatum: Ab sofort

Ort: Außendienst in München, Düsseldorf, Stuttgart, Nürnberg

Chancengleichheit: Wir glauben, dass die Stärke eines Rudels aus seiner Vielfalt kommt. Egal also, wer Du bist, woher Du kommst, woran Du glaubst oder was Deine Träume sind, wir heißen Dich willkommen und freuen uns auf Deine Bewerbung. 
Zugänglichkeit: Unser HQ-Büro und die Außenstellen sind für Rollstuhlfahrer zugänglich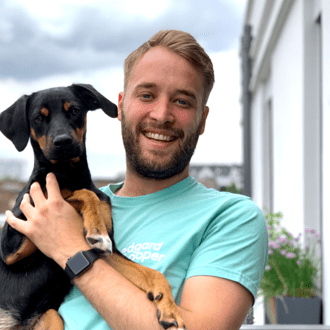 Culture
We call ourselves 'the pack' because we stick together. We are a bunch of animal-loving, purpose-driven pals! Working here means working in an international and supportive team where everyone has a voice. We're big fans of curiosity and learning on the job, and if you want to join a fast-growing team and want to make a 'pawsitive' impact in the world then we might just have the role for you!

Just like our dogs – Edgard and Cooper – we're friendly, fun and we look out for each other! Let's raise the 'woof' together?
Bezirksleiter – Verschiedene Standorte
Will the real sales wizard please stand up?
Loading application form