Looking for the best
Studentjob?
At Edgard & Cooper we want you, your pets and our planet to feel good. Do you want the best student job of your life and are you ready to join us in our mission?
This student job gives you the opportunity to develop both
personally
and
professionally.
Brand activator
say what?
Being a Brand Activator for Edgard & Cooper means representing our brand at all times.
As a true pet lover, you will tell our story to the outside world at pet shops, at consumer & trade shows, on dog walks and events.
You attract the attention of potential customers and tell our story in an engaging way, whilst also listening carefully to their questions.
You give owners advice and spoil dogs and cats with all our delicious treats.
This student job will help you to grow as a person and help us to grow as a company! Come and join our pack! 🤩
Apply now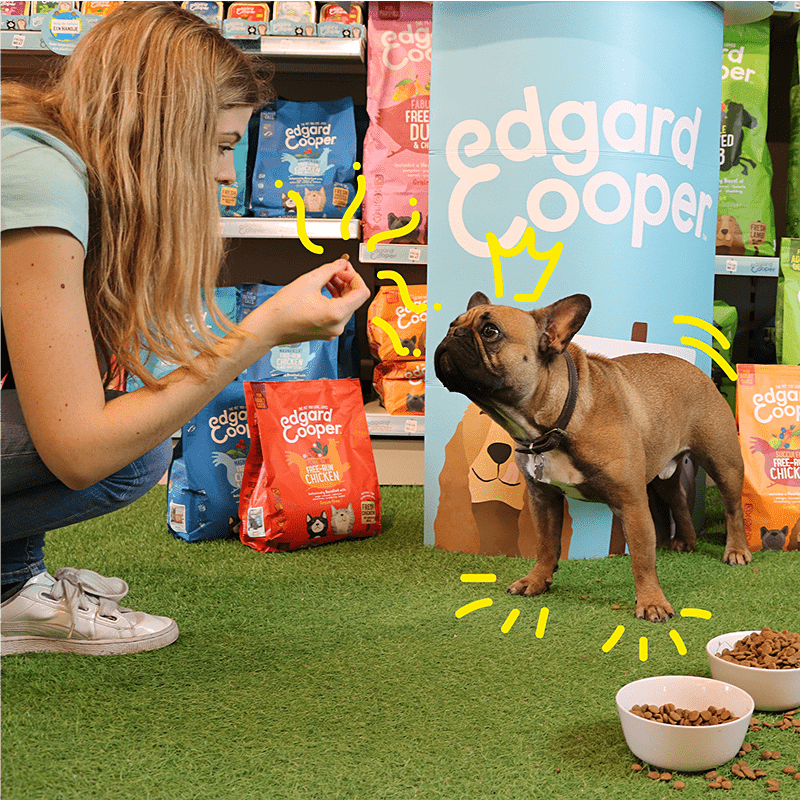 What type of breed are we looking for?
You love meeting pets & their owners, and you're full of energy 🐶🐱
You're a natural communicator who wants to bring a smile on people's faces (& our furry friends too!) 😸
You're confident, proactive and enjoy working independently.
Availability on weekends.
You have a drivers license & a car available 🚗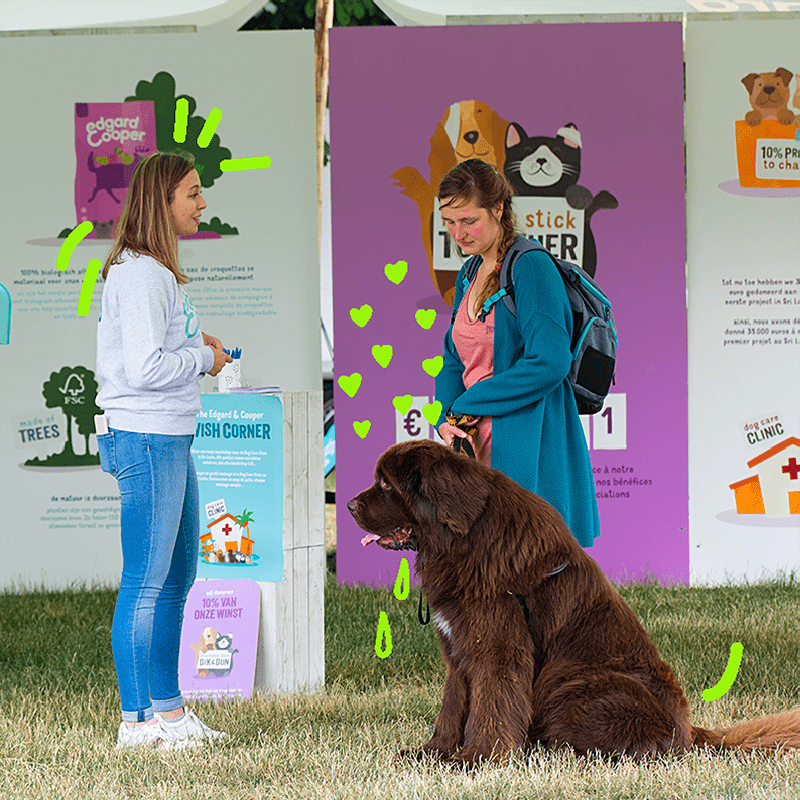 What can you expect?
The best student job in town 🥳
Variation: No Saturday or Sunday are the same.
Paid training where you learn everything about our brand, nutrition and how to convince potential customers!
Just like our dogs – Edgard and Cooper – we're friendly and fun! 😻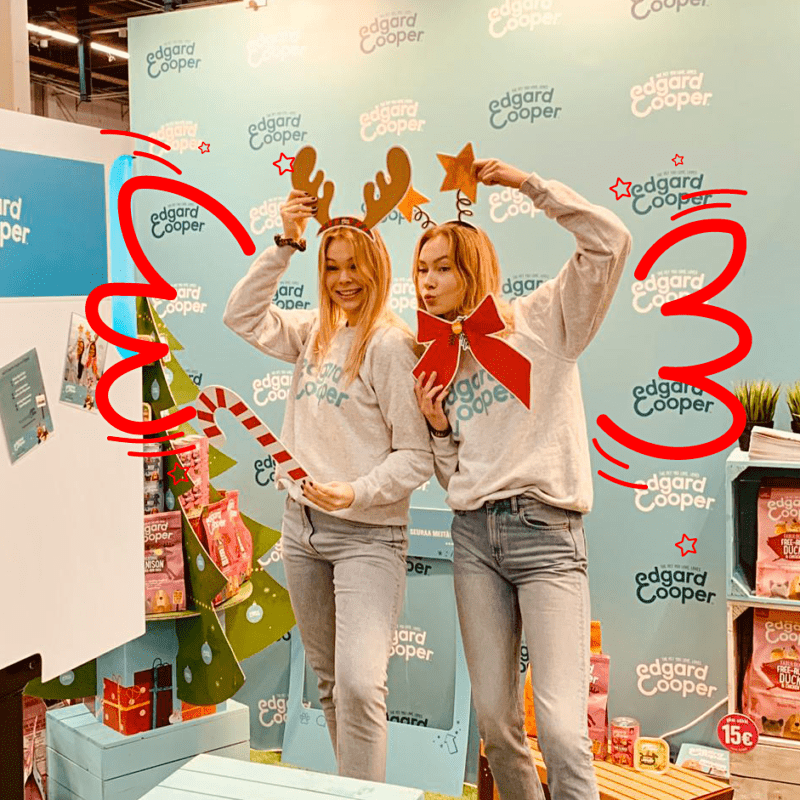 What's in it for you?
A flexible role with an hourly wage of £11.50/h + expenses 💰
A goodie bag full of fun stuff 🎁
You're joining a rapidly growing company with fun events.
Group activities to get to know your colleagues better 🎪
Why work at


Edgard & Cooper?

At the Edgard & Cooper Academy, you get an important role within the team with a lot of responsibility from day one. This student job gives you the opportunity to develop both personally and professionally. During your training, you also get the opportunity to gain additional experience in sales and marketing. And that looks great on your CV! Students who work at Edgard & Cooper gain invaluable experience within a fast-growing FMCG company. Most of them secure a job immediately after they graduate, like Julie, our previous Brand Activator who found her dream job with us. This student job kickstarts your career!
Read Julie's story
We try to plan the in-store activations and events as close to your home as possible. It is important that you have a car available for flexibility and to bring all your equipment.

The hourly wage is £11.50 / hour and will be paid monthly. The working days are usually Saturday and Sunday from approximately 10 am to 5 pm. We try to limit the distance from your home to your event as best as possible with a drive of up to half an hour. Flexibility is a must during events.

You will work at a different location every weekend and will need promotional material to be able to do your job properly. Unfortunately, you cannot travel with your material by bicycle or public transport.

Yes of course! We are big fans of purpose, curiosity and learning on the job, so our only requirement is your commitment to your job! We will support, engage and invest in your development as a brand activator. We will also invest in a qualitative and paid nutrition & sales training, so you are fully prepared for the job! In addition, we provide extra coaching sessions and evaluation moments throughout the year.

That is not a problem! If you are a petlover, then you are the person we are looking for! You will get nutritional information in your training.

You can still apply! We know student life can be hard and we always take that into account. We will ask about your availability at the beginning of every semester, so we can make a schedule for the months ahead.

We receive a lot of applications and try our best to get back to you as soon as possible! It can take up to three weeks before you receive a response by email, so don't panic if you haven't heard from us yet!

No two days are the same! You will work both independently and in teams. Some days you will work alone during an in-store activation and other days you will work with a super fun team, going on a dog walk or having fun at the fair! Lots of variation!

The corona regulations are respected in the shops and at events. We provide hand sanitizer and a mask, while assuring the necessary distance can be kept between customers.
What other brand activators say
E&C gives me the chance to develop my social skills, whilst also meeting dogs in (pet)stores! Knowing that I'm helping customers to make responsible choices regarding dog food & packaging, makes me feel great. Every weekend is different; one day I'll work with a dog photographer, another day I'm giving treats to dogs at a festival.

Ellen

Student multilingual communication

During my animal management training, my interest in animal nutrition has increased enormously. That's how I ended up at E&C in 2019! Here I get to work with my passion. During internal training courses, I get the opportunity to broaden my knowledge, not only in the field of animal nutrition, but also in communication and sales. Because of this, I develop myself further and I am prepared for a real job after my studies.

Sven

Student Animal Management
Other brand activator jobs
Can't find a brand activator job in your region? Visit our student page to find all available openings as brand activator